The artist is Bogolyubov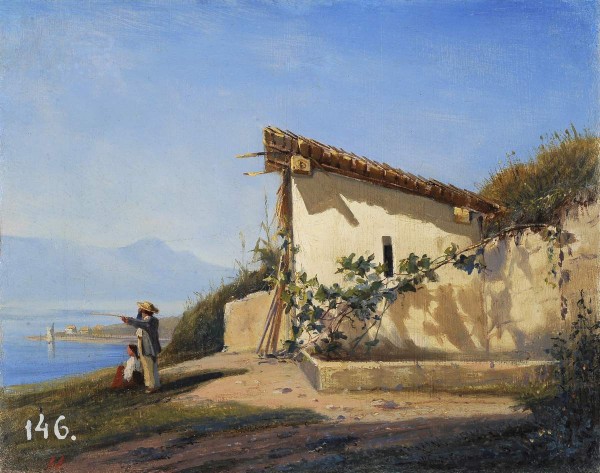 + About the restoration of the work
– Hide the text about restoration
The state of safety before restoration:
The picture was painted on paper, which, under the previous restoration, was duplicated on the canvas and stretched on the subframe. The work had the following damage: a fresh break in the paper base with a lag behind the canvas, several old, previously made breakthroughs with deformations and unevenly glued edges, foci of decorating paper and canvas along the edges. Over time, the paper base became very fragile and brittle. Along the perimeter of the picture and from the back, along the dubbisy canvas, the sections of the passage of dubbishy glue and the old restoration patch were visible.
A film of yellowed varnish and extensive restoration registration and tinting that have changed in color and tone lay on the author's colorful layer.
Complex of the events:
After preliminary strengthening of painting, a restoration patch was removed from the back. Under the patch hid the old seal of the Imperial Academy of Arts and a partially lost date. Without removing the picture from the subframe, the clarification and alignment of the lacquer film, the removal of late correspondence and restoration tones were carried out. As a result, the edges of the found old breaks of the foundations and old mastications filled, filling the loss of paper. Then the paper was fed from the duplicate canvas, followed by removal of the remains of dubbing glue. Gaps of the author's base are aligned, repressed and additionally strengthened by stripes of Japanese paper. The picture is duplicated on Japanese paper and then on a new canvas.
After stretching the picture on an exposition subframe, a layer of restoration soil was brought into the places of loss of the author's paper base.
Toning the loss and scuffs of the colorful layer is made by restoration colors. The surface is covered with a layer of restoration varnish.
Keeping a story. Restoration workshop of the Russian Museum – 100 years. SPb, 2022. With. 117.