The artist is unknown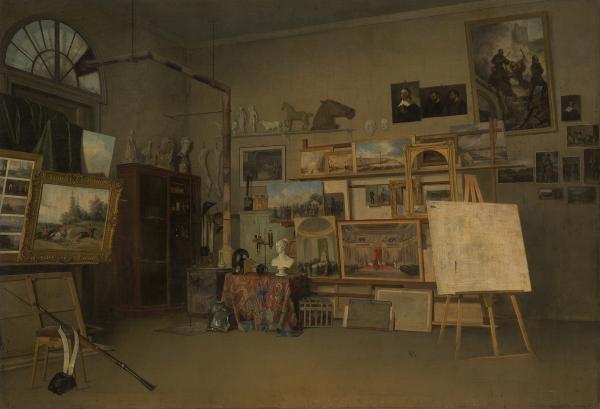 The workshop a. And. Ladürner in IAX. Among the depicted works a. Ladüurner can be seen sketches for the paintings: "The solemn consecration of the Alexander column on Palace Square in St. Petersburg on August 30, 1834."(1840, timing)," Parade on the Tsaritsyn Lug "(1836, was not preserved)," Grand Duke Mikhail Pavlovich in the camp of the Preobrazhensky Regiment "(1835, GMZ" Pavlovsk "), the French Imperial Guard of the Time of Napoleon I" (1840- E, timing), "Solemn Assembly of the Academy of Arts in 1839" (1840, GTG) and others. In the foreground on the left – the painting "Lezgins of His Majesty's own convoy, which are shooting off during the retreat". A similar picture was painted in 1845 and was in the collection of Emperor Nicholas I. After the death of Ladühurner, in accordance with the report by the police officer, Colonel Patsovsky, among other things, 157 sketches and sketches of various sizes written on cardboard remained in the workshop, and 45 on canvas, as well as three cabinets with ramp portfolios, models, books and other things, four Molbert, a mannequin of a human figure, a model of a horse head, an iron small chest (RGIA, F. 789, op. 1, h. II, d. 2195, l. 1–1 vol.).
Adolf Ignatievich Ladürner (1799, 1800 (?) – 1855). French artist, battalist, portraitist. He arrived in Russia in 1831 and was located in the former workshop of George Dow in the Shepelevsky House, where the Englishman worked on portraits of Heroes of the Patriotic War of 1812. The house was located on the site of the new Hermitage. However, in December 1837, "the emperor, the emperor, deigned the painter Ladurener to transfer from the Hermitage to the Academy of Arts" (RGIA, F. 789, op. 1, h. II, d. 2195, l. 2).
N. X. Unknown artist. SPb, 2012. With. 208.