The artist is Egorov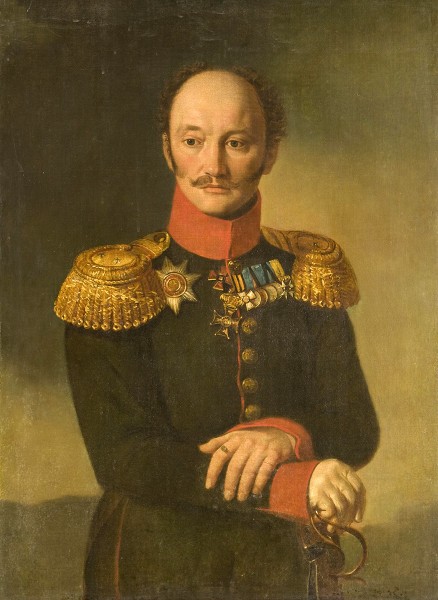 Philosophers Alexey Illarionovich (1799-1874) – General from Artillery. Education received education in a Page Corps. In 1818-Warrant Officer of the Life Guards of the 1st Artillery Brigade. Participated in the Russian-Persian war 1826-1828 and Russian-Turkish 1828-1829. In August 1828, he was awarded a golden saber with the inscription for the capture of the Akhaltsi fortress: "3a courage", the rank of colonel and the Persian Order of the Leo and the Sun, appointed as the adjutant to the Field-Feldsekhmeister Grand Duke Mikhail Pavlovich. In 1830 he took part in the French expedition against Algerian Bey, in 1831 – in the suppression of the uprising in Poland. 1836-Major General. Since 1838 – the teacher at their imperial highnesses Nikolai and Mikhail Nikolaevich, since December – in the retinue of Nicholas I. July 1842-Adjutant General, March 1847-Lieutenant General. Since 1854 he headed Kronstadt artillery, 1859 – General from Artillery. He died in Paris.
It is depicted in the Vitsmundi Major General with Orders: SV. Anna 1st degree, St. Vladimir 3rd degree (cross on the neck), sword (Swedish), a sign of military dignity Virtuti Militari (Polish); In the block: Order of St. George 4th degree, medals "3a Russian-Turkish war 1828-1829" and "3a capture by the attack of Warsaw on August 25-26, 1831". In the cat. 1980 – around 1846. The lower limit of the dating is determined by the presence of the Order of St. Anna of the 1st degree obtained. And. Philosopher in April 1845. The upper border is 1847-the year of assignment of the rank of lieutenant general, while the portrait of philosophers is depicted in the uniform of Major General.