The artist is Gagarin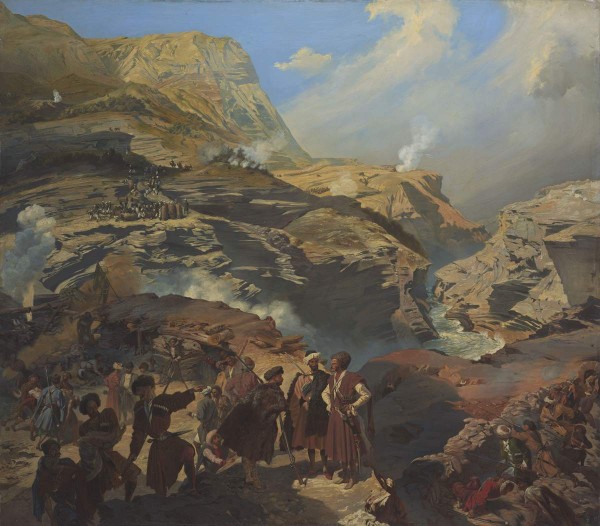 The picture reproduces the episode of the Cherkeevsky campaign (1841) against the troops of Shamil of the so -called Dagestan Consolidated detachment of the Russian army. The purpose of the campaign was to master the important strategic point of the highlanders – the aul Circassian on the Sulak River in Dagestan. On May 8, the Russians tried to force the Sulak River at the village of Ahatle, but this attempt ended in failure, since the opposite shore was strengthened by the highlanders. The Russians had to go around, on May 15 they took possession of Humbar heights, and on May 17 they took Circassian.
G.G. Gagarin took part in this campaign and was awarded the Order of St. Anna of the 3rd degree with a bow, and on July 1 it was renamed the guarantees of the Life Guards of the Hussar Regiment and was counted to the office of the military ministry for special assignments.
The artist used a fragment of the drawing of the drawing of. YU. Lermontov "Battle of Valerik on July 11, 1840". Field sketches were made by the artist on the spot, the picture was written in St. Petersburg, where Gagarin stayed from July 1841 to spring 1842. In a somewhat altered form, the picture was lithograph by Egen Siseri and Bayo and reproduced in the album of Gagarin "Passage du Soulak a akhatl" (Transition through Sulak by Ahatla).