The artist is Slavic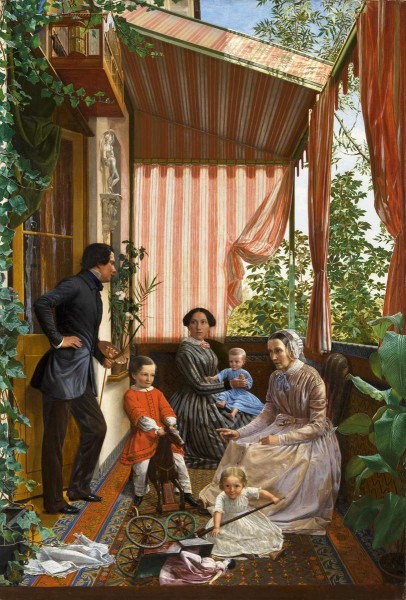 The painting depicts the artist himself, his wife Alexander (Maria) Bogdanovna (nee Bekman, 1818–1898), mother -in -law Anna (Amalia) Egorovna Bekman (nearean. Gainz, 1874? –1851) and children: Kronid (1847–1898) and Lydia (in the marriage of Reich, 1848–1902). The name of the third child sitting on the knees A.B.Slavic, it was not established, perhaps this is one of the nephews and godsoners of the artist – Bekman Evgeny Konstantinovich (clan. 1848), or, more likely, Bekman Anatoly Konstantinovich (1850 – after 1918).
"Family Picture" by Fedor of Slavic is built in such a way that the main genre of this work can be called the interior, and the group portrait of the artist's family is perceived almost as stuffage. The artist placed himself on the side, even a little turned away from the viewer, and in the foreground all his households are a mother -in -law in a cap, wife and children. Women of the artist family came from St. Petersburg Germans, and, obviously, the family was strong and friendly. Not the last role in the home scene is assigned to children's toys that create an atmosphere of contentment and happiness that reigned in the artist's family.