The artist is Aivazovsky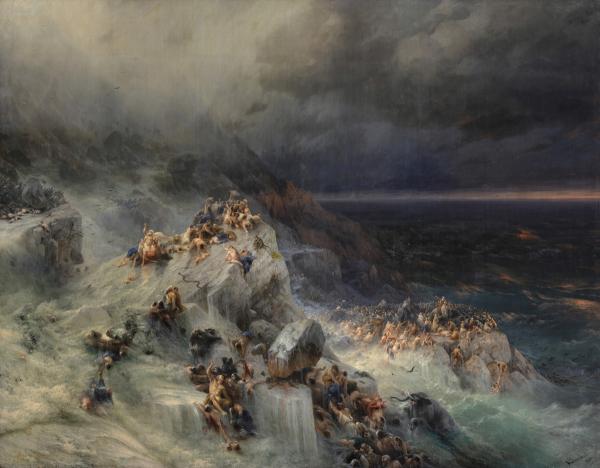 A rare work on the topic from the Holy Scriptures in Russian painting. The implementation of the plan contributed to the fact that Aivazovsky successfully combined high craft training, the gift of poetic imagination and a passion for improvisation. It is unlikely that any of his contemporaries could convey the entire scale of the catastrophe, the universal storm in the sky and on the ground, giant waves, overwhelming ledges of rocks, for which people and animals cling. Numerous characters are compositionally united by him into semantic groups – in the center of it stands out the figures of an old man surrounded by a family, and a dying woman, a group of kneeling people. The images of human greed, the futility of attempts to get away from fate are somewhat naive – an image of the tsar and priests sitting on the elephants with gold vessels and jewelry. Shown at the exhibition of the Academy of Arts of 1864 under the name "World Flood (recent days)", The picture had a wide resonance in Russian society. In 1865 it was acquired by Emperor Alexander II for the Hermitage Gallery.
It was exhibited at the All -Russian Exhibition (1882) in Moscow and at the International Exhibition (1891) in Berlin.
We recommend
Ivan Aivazovsky. "global flood". Biblical plot (studio "Neophyte")