The artist is Iebens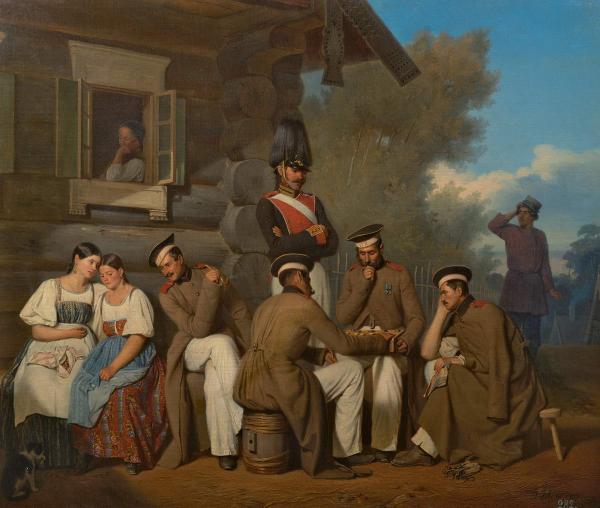 The picture was written by Adolf Ibens, born in the German city of Elbing and who worked in Russia from 1845 to 1863. He served in St. Petersburg by a court portrait, and also wrote genre scenes, mainly military topics.
The characteristic feature of the canvases of Jebens is a thorough study of all the elements of a military uniform, which allows us to consider its canvases as a historical source. Dubeing the uniform, so deeply permeating the whole society under Nicholas I, also found its expression in the paintings of Iebens.
The most famous in Russia is his suite dedicated to the Russian army and consisting of more than a hundred and thirty paintings. The earliest of them were made in the late 1840s-early 1850s. These are mainly scenes of soldier's life. The picture received by the Russian Museum from the former Museum of the Life Guards of the Izmailovsky Regiment (Petrograd) in 1918, and sometimes mentioned under the name of Izmailovites in the village, is a typical example of the work of Iebens of this period. Later, more official ceremonial plots will almost completely replace the theme of life from the work of the painter.