The artist is Dittenberger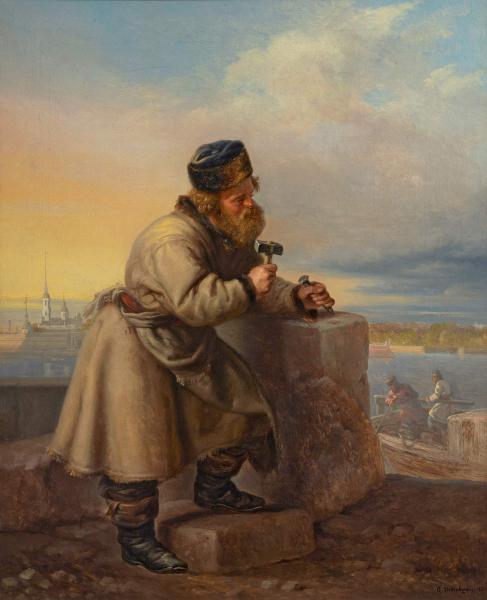 A year after invitation to Russia to participate in the painting of the Palace of Grand Duchess Maria Nikolaevna (Mariinsky Palace) Austrian painter g. Dittenberger created the painting "The Old Man-Kamenotes on the Neva Embankment". Judging by the image of the Peter and Paul Fortress in the background, the artist portrayed Kamenetsov on the palace embankment – the oldest stone embankment of St. Petersburg.
By the middle of the 18th century, all the largest and most beautiful buildings of the capital were built along the coast of the Neva, but the Neva embankments themselves were still wooden. Therefore, one of the first decrees of Catherine II entered the Russian throne was established "Commission on the stone structure of St. Petersburg and Moscow", which was primarily engaged in the development of the project of cladding of embankments of the Neva with a stone. A special decree was issued, which said: "Here in St. Petersburg against all our palaces, gardens and official houses to make stone". In 1762, the construction of the Winter Palace ended, and the first stone embankment was built here. For almost twenty years, the Neva embankments became a construction site. The work was not easy and laborious, because strengthening the shores of the Neva because of their unsteady was quite difficult. First piles were driven, and then the space between them was filled with earth and cobblestone. After strengthening the riverbank, the pink Finnish marine granite, or St. Petersburg was faced with blocks. From the quadrs of this stone, walls, parapets and sidewalks of the first stone embankments of St. Petersburg – palace, gallery, winter groove, Yekaterininsky Canal were collected. Granite blocks cut down in the sea in Finland south of the city of Hamin and near Kotka. There were numbers there, and a stone in the embankments was laid on them. The embankments were made quite high, remembering the danger of floods. During the work, descent to the Neva, served by the berths. The construction of the Palace Embankment was fully completed in November 1767.