The artist is unknown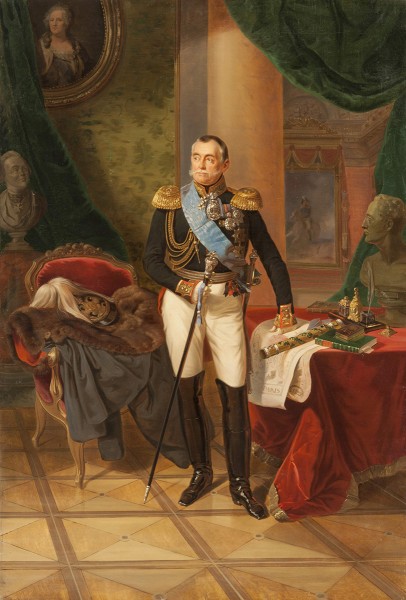 Pyotr Mikhailovich Volkonsky (1776–1852)-Serene Prince, Military and Court General, Field Marshal (1850), Adjutant General.
Comes from an ancient kind. Already at baptism, he was recorded by a sergeant in the Life Guards Preobrazhensky Regiment. In the battle of Austerlitz, the Fanagorian Grenadier and Ryazhsky Musketeer regiments drove into attacks several times, repulsed two enemy guns, for which he was awarded the Order of St. George of the 3rd grade. In September-October 1812 he was at m. And. Kutuzov, participated in hostilities on the Berezina River. Since the end of December 1812 – chief of the main headquarters of the army. For the leadership of the troops in the battle of Lutzen in 1813 he was awarded the rank of lieutenant general with seniority. For the battle of Leipzig, he received the Order of St. Alexander Nevsky.
After the war, he accompanied Emperor Alexander I on his trips. The main attention in the post -war period was paid to the improvement of the apartment service, developing the states, the training system of staff personnel, in fact, he became one of the organizers of the General Staff created in 1827. From 1826 to 1852 – Minister of the Imperial Court and Dolly, he enjoyed the trust and location of Emperor Nicholas I. In 1843. Infantry Regiment in which he was a chef was given the name of Peter Mikhailovich Volkonsky.
From 1802 (?) married to Sofya Grigoryevna Volkonskaya (1785–1868), daughter of the general from cavalry g. With. Volkonsky and sister of the Decembrist with. G. Volkonsky. The owner of the estate "Sukhanovo".
In the art of Russia, the first half of the nineteenth in. The leading genre remained a portrait, when creating which the artist seeks to imagine the character and psychology of the heroic person wider. And in this the use of other genres helps him: landscape, still life, thematic picture. The presented portrait is a vivid confirmation of this.
1812 in works of art from the collection of the Russian Museum. SPb, 2012. With. eleven.