The artist is Aivazovsky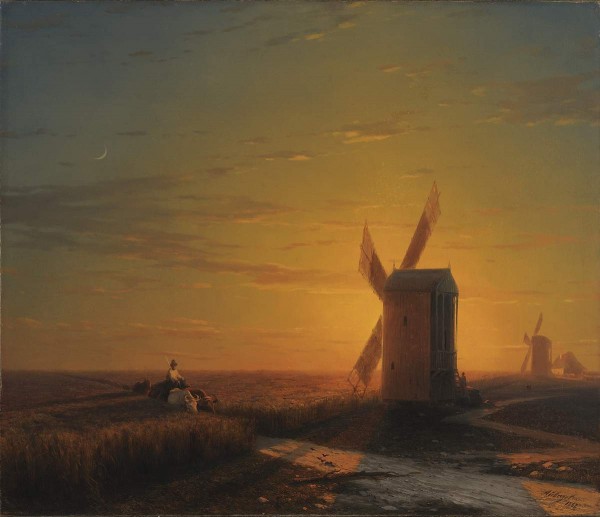 + About the restoration of the work
– Hide the text about restoration
The state of safety before restoration:
Upon entering the restoration, the picture was very polluted, there were six old patches on the back, the drawing of hard craquelure was seized everywhere, the basis was deformed. The colorful layer over the entire surface is struck by the raised breaks and craquelure, there was a threat of shedding painting. In different parts of the surface of the painting, the old restoration tinting changed in the tone, color, dry. Along the perimeter of the picture along the edges, there were a shirt of a colorful layer and soil. Old varnish darkened very much and changed in color, completely hiding the author's color palette.
A set of events
After a comprehensive study of the layers of painting, a complex of conservation measures was carried out aimed at strengthening painting and laying craquelure and fractures. Old plasters were removed from the back and pollution that came into the canvas. The basis was duplicated on a new canvas. On the front side after removing the pollution, the old varnish coating was thorough. Restoration soil is brought to the loss of the loss, and tinting in the boundaries of the loss is performed. At the end of the complex of restoration measures, the painting is covered with a protective layer of dammar varnish. As a result of the opening of the colorful layer, a bright author's flavor and sound were returned.
Keeping a story. Restoration workshop of the Russian Museum – 100 years. SPb, 2022. With. 120-121.